Hartung-

Gorre

Verlag

Inh.: Dr. Renate Gorre

D-78465 Konstanz / Germany

Fon: +49 (0)7533 97227

Fax: +49 (0)7533 97228

www.hartung-gorre.de

S
GERMANISTIK
IN IRELAND
Jahrbuch der / Yearbook of the
Association of Third-Level Teachers
of German in Ireland
Volume 17 / 2022
<![if !vml]>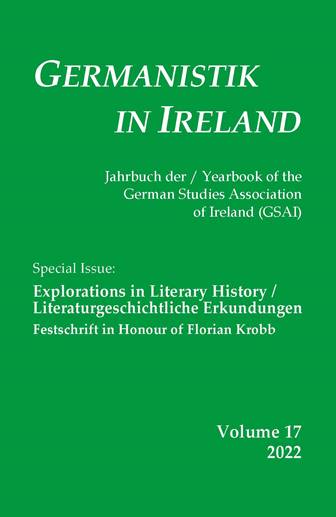 <![endif]>
Ed. Jürgen Barkhoff, Siobhán Donovan, Leesa Wheatley
Special Issue:
Explorations in Literary History /
Literaturgeschichtliche Erkundungen
Festschrift in Honour of Florian Krobb
1st edition / 1. Auflage 2022, 250 pages/Seiten, € 20,00.
ISBN 978-3-86628-778-5
Search inside: Foreword zu Germanistik in Ireland Vol. 17 (2022)
TABLE OF CONTENTS
JÜRGEN BARKHOFF, SIOBHÁN DONOVAN, LEESA WHEATLEY
Introduction
ARND WITTE
Rassismus im Diskurs. Vom kolonialistischen Ausschluss durch Einbeziehung
bis zur postmodernen Diskriminierungskritik als Bildungsverpflichtung
PRIMUS-HEINZ KUCHER
Alma Johanna Koenigs Nordafrika-Narrative in
Leidenschaft in Algier (1932) und Sahara (1951
CARLOTTA VON MALTZAN
"Da wurde ein Krieg geführt, der ihn, genau genommen, nichts anging".
Zu Krieg und Bewusstwerdungsprozessen in Uwe Timms Morenga
und Damon Galguts The Beautiful Screaming of Pigs
DIRK GÖTTSCHE
German Colonialism and Zanzibari-German Entanglements in Abdulrazak.
Gurnah's Novels and in Contemporary German Literature
RITCHIE ROBERTSON
Imperial Machiavel. The Morality of Octavio in Schiller's Wallenstein
RACHEL MagSHAMHRÁIN
Mistaken Identity as Gay Science. Kleist's Sister in an Article of Her Own
JOACHIM FISCHER
"Von Irland kam sie mit der Flut, Sie kam von Tipperary".
The Repeal poem Mary and other Irish observations
by the German early socialist writer Georg Weerth
ROLF PARR
"Auf dem Altentheil seit 1901". Zwei unbekannte Raabe-Dokumente
ANNE FUCHS
On Unbecoming Human and the End of Genealogy
in Kafka's Die Sorge des Hausvaters
SABINE STRÜMPER-KROBB
Eine globale Karriere. Zur Disneyfizierung von Felix Saltens Bambi
FRANZISKA SCHÖSSLER
Phantastik und völkisches Denken. Hans Dominik und die
Attraktivität seiner Science-Fiction-Romane nach 1945
SABINE EGGER
Changing positions between two literary fields.
Johannes Bobrowski and the 'Gruppe 47'
HANS-JÜRGEN SCHRADER
"Ziegel und Aschentürme auf Säulen".
Zur Lyrik der Jerusalemer Maler-Dichterin Yvonne Livay
CAITRÍONA LEAHY
By Way of Tribute. An Essay on the Matter of paying Tribute
HANS-WALTER SCHMIDT-HANNISA
"Nachtwimmern". Zur politischen Poetologie
des Traums in Robert Seethalers Roman Der Trafikant
Publications by Florian Krobb
Tabula Gratulatoria
BUCHBESPRECHUNGEN /BOOK REVIEWS
Orders should be addressed to the Association of Third-Level Teachers of German in Ireland.
The subscription price is € 15.00 per volume. For contact details, and for further information about the Association,
log onto the website: http://www.germaninireland.org.
Or in your bookshop or  directly at  / Buchbestellungen in Ihrer Buchhandlung oder direkt bei:
Hartung-Gorre Verlag
Saentisblick 26
D-78465 Konstanz / Germany
Telefon: +49 (0)7533 97227
http://www.hartung-gorre.de
eMail: verlag@hartung-gorre.de